It's that time of year again, folks. The flowers have been purchased, the dinner reservations are set, and the second box of chocolates is on the way since you already caved and ate the first. Social media is more vomit-inducing than usual, and Ryan Seacrest is parading around ABC Family like the patron saint of "Mario Lopez was too busy to host this goddamn Harry Potter marathon." And your mother—bless her—is trying to be supportive, but hell hath no fury like a freshly opened box of wine. That's right, it's Valentine's Day.
As is tradition, the UTG staff and our friends have compiled a list of love songs that are sure to make even the most calloused hearts skip a beat. You can read through our thoughts on the song choices below while streaming the 25-track playlist, and be sure to share some of your favorites in the replies.
---
Copeland – "Ordinary"
A comfortable routine can be a beautiful thing when it comes to being with the one you love. Despite its almost melancholic aura, "Ordinary" is the musical equivalent of that safe feeling; the familiarity and simplicity of consistency. "Since you came along, my days are ordinary. We laugh just like yesterday. And I kiss you like the day before": lyrics perfectly suited to soundtrack your indefinable union. — Brian Leak, Editor In Chief
Margot & The Nuclear So And So's – "Lazy"
"Lazy," one of the most honest love songs ever put to tape, highlights the beauty of low-maintenance and doing a whole lot of nothing with your significant other. For those carefree days spent entirely in bed, with nothing more than warmth and cutesy conversation, "Lazy" is requisite. "But I love you, so who cares if you're lazy?" — Brian Leak, Editor In Chief
---
---
Something Corporate – "She Paints Me Blue"
Is there any song that better describes the feeling of "she loves me, she loves me not?" A highlight from Something Corporate's magnum opus, North, "She Paints Me Blue" opens with McMahon watching the lights in his date's house go out after dropping her off, blaming his nerves on the cold weather and wondering how he could be so deep in his feelings while she sleeps easily inside. Bonus points for managing to feasibly relate to both the beginning and the end of a relationship, as well as for featuring one of my all-time favorite McMahon lyrics: "I can't hide that I've relied on you like yellow does on blue." — John Bazley, News & Review Writer
Pinegrove – "Angelina"
Pinegrove's great new record Cardinal just dropped on Friday, but older cut "Angelina" is perfect for crushin' on a pretty girl this Valentine's Day. "How'd you get so tangled up in my thinking?" sings Pinegrove mastermind Evan Stephens Hall over an acoustic-indie jam, immediately reminiscent of older Ryan Adams material from the Love Is Hell era. Running at only a minute and forty seconds, "Angelina" is over before it begins, much like the innocent sense of young love that inspired it. — John Bazley, News & Review Writer
---
---
Pine – "Lopri"
While Valentine's Day could ideally be reserved for well-founded loves, what about one blossoming from something entirely new? Or even stemming from a seed that was never meant to grow? Pine's "Lopri" is just that. Ambient, yet pulsating musicianship accompanies urgent, yet hauntingly beautiful vocals reaching to understand a love blossoming unexpectedly. As singer Darlene Deschamps puts it, "it's about falling in love when you're not looking for it, and the challenges it brings with it." Get lost in Pine's phenomenal "Lopri," and be sure to bloom any love that presents itself to you, even if it finds itself in unexpected forms. — Drew Caruso, News & Review Writer
Motion City Soundtrack – "It Had To Be You"
"What a disaster it would be if you discovered that I cared a little too much for friends but not enough to share" is an accurate depiction of a twenty-something's perspective on dating. The rest of the song is our optimal outcome. "It Had To Be You" feels like a romantic comedy's script encased into a catchy song. It's the long-awaited sequel to 500 Days Of Summer – the moments leading up to when Summer realizes she fucked up. The song is about an idea we all toy with and ultimately hope for; it's a song about all the love that could've been. — Dana Reandelar, News & Review Writer
---
---
Panic! At The Disco – "Always"
This track is pretty high up on the "when punk rockers drink too much wine and spew vulnerables" list. This also happens to top my "songs I like by P!ATD" list. "Always" is sincere and doesn't wander off with similes and metaphors. I actually know of people who've walked down the aisle to this. I'd imagine this song is exactly what being in love feels like. It closes with a soft "blink back to let me know," but I've got a feeling he already knew. — Dana Reandelar, News & Review Writer
Samuel E. Wright – "Kiss The Girl" (The Little Mermaid)
I'm a huge Disney fan and "Kiss The Girl" is self-explanatory. The lyrics speak for themselves. So, fellas, if you ever end up in a lagoon with your girl or somewhere romantic and she's giving you "the eyes," pucker up, get close, and kiss her. — Corbin Alvae, Head Of Photography
Pentatonix – "Water"
Pentatonix is one of those acts that put a lot of heart into their music and when it comes to their track "Water," it gives off the feel, in my opinion at least, when you're really into someone and you want to tell them how you feel, but have no idea how they will react. Sometimes, your worst fear is rejection, but all I have to say is that if you like someone, just tell them, dammit. No harm done. Happy Valentine's Day! — Corbin Alvae, Head Of Photography
---
---
Twin Forks – "Plans"
Taken from Twin Forks' phenomenal 2014 debut, "Plans" is essentially the "honeymoon phase" put to music. As always, Chris Carrabba's contributions are fantastically fluid and self-aware, and as a whole, this track is as warm and inviting as any longtime lover. It's a straightforward admission, and that's the main reason it works so well. — Kyle Florence, Music Editor
City And Colour – "Northern Wind"
Ex-Alexisonfire guitarist/vocalist Dallas Green has a knack for writing about love, and there could be entire playlists generated from his five-LP catalogue. But this song equates the euphoric, tingly, oh-so-happy feeling of love as a "cold December snow in the warm July sun." That's either love or a serious dose of hallucinogens. — Zachary Brendza, News & Review Writer
Owen – "Bag Of Bones"
Anything written by Mike Kinsella (American Football, Cap'n Jazz, Their / They're / There) is eternally full of sorrow, but "Bag of Bones" has a love-filled tragic tone to it, with lyrics of two imperfect people layered over a beautiful acoustic tapping pattern. The line "You and me, a hospital love scene" is an infectious combination of words that end the song and show love in a different, damaged way. — Zachary Brendza, News & Review Writer
---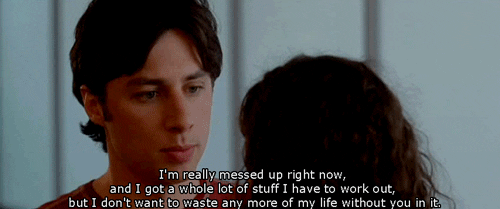 ---
The Get Up Kids – "Valentine"
Not only is this song text book emo, but it's without a doubt a perfect love song. It touches on every aspect that comes with mixing your life with another person, and executes the importance of remembering the little things to keep sanity; from the great moments, to the times of strife, disagreement or even inconvenience. Plus the three-part harmony at the end is so overwhelmingly good. — Corey From, News & Review Writer
Aretha Franklin – "Day Dreaming"
Everything about this song says love to me. "Day dreaming and I'm thinking of you" – that chorus comes in right off the front and is exactly what happens when two people love each other; the narrative she weaves is one that would be cheesy if almost anyone else sang it, but Aretha makes it real. One of my favourite Aretha tunes from one of my favourite Aretha albums (Young, Gifted and Black). — Steve Sladkowski, guitarist in PUP
Young Guv – "Ripe 4 Luv"
Most people know Ben Cook as one of the hydra heads of Fucked Up. Young Guv is his sexy, '70s power-pop solo project. If the title doesn't scream Valentine's Day, the sunny melodies and shimmering guitars should get the hips moving in the right directions. — Steve Sladkowski, guitarist in PUP
---
---
Ludo – "Anything For You"
The cheese is in full effect on Ludo's "Anything For You," taken from their final record, Prepare the Preparations. The "Love Me Dead" quartet successfully weave together a heartfelt narrative comparing fairytales and true love. You can probably guess which one comes out on top. — Connor Feimster, Editor at Mind Equals Blown
New Found Glory – "Hit or Miss"
I'm a tad biased for choosing this song; apart from it being one of the most essential pop-punk songs, like, ever, it's mine and my partner's "song." I highly doubt I was the first one to ever engrave "have I found that someone?" on an iPod for my boyfriend…or was I? — Connor Feimster, Editor at Mind Equals Blown
Coheed and Cambria – "Here To Mars"
From their latest release, Coheed and Cambria's "Here To Mars" is a love song from frontman Claudio Sanchez to his wife. True to form, it's space-y, catchy and totally Claudio, but with lines like "…there's no one like you on Earth that can be my universe," it's clear that this track should be a cosmic Valentine essential for sweethearts and star-crossed lovers alike. — Anthony Galasso, Founder at Breathe Atlantic Clothing
---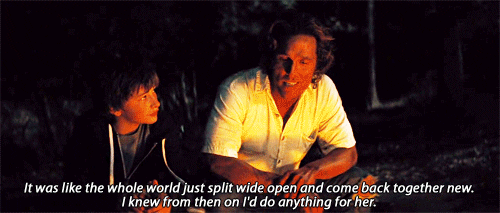 ---
Jesse Barrera – "Favorite Girl" (Feat. Tori Kelly)
Off of Barrera's 2013 full-length effort, From The Ground Up, the former My American Heart guitarist lays down a bluesy pop jam alongside the Grammy-nominated Tori Kelly called "Favorite Girl." Lyrically, it's reminiscent of a time when all songs were love songs, which is refreshing. — Anthony Galasso, Founder at Breathe Atlantic Clothing
Ray LaMontagne – "You Are The Best Thing"
My newfound love for LaMontagne's soulful sounds has made this track number one on most of my playlists. However, its romantic expressions of adoration and celebratory instrumentals create the perfect Valentine's Day jam. Ray LaMontagne, you are the best thing that ever happened to me! — Emma Guido, Intern at Muddy Paw PR
Bright Eyes – "First Day of My Life"
This throwback ballad recreates that moment of realization when you fall in love with that special someone. As it was represented in the iconic music video, any loved one can easily be pictured in the mind as this soft, quirky love song tickles your ears. This Bright Eyes track holds the quintessential essence of an indie love story, making your Valentine's Day moment a scene from a movie. — Emma Guido, Intern at Muddy Paw PR
---
---
Led Zeppelin – "All My Love"
This classic Led Zeppelin love song proves that you are never too rock and roll to fall in love. The incredibly long, yet appropriate, instrumental sections make time for an intimate slow dance, and the revealing words of affection can make anyone's heart instantly melt. Valentine's Day or not, this track is sure to make any date night into a romantic moment. — Emma Guido, Intern at Muddy Paw PR
Band Of Horses – "No One's Gonna Love You"
When my girlfriend and I started dating, we couldn't go anywhere without hearing Band Of Horses, so they quickly became a "our band." This song was an obvious choice because of it's romantic sentiment and Ben Bridwell's vocals are gorgeous. — Ian McGuinness, Vocalist/Guitarist in Side Saddle
Mirah – "Words Cannot Describe"
This song sounds like a snowy Valentine's Day in New York City to me. This song goes out to all the folks spending Valentine's Day alone or apart from their loved ones. "I'm wishing on a star to be with you." — Ian McGuinness, Vocalist/Guitarist in Side Saddle
Elvis Presley – "Can't Help Falling In Love"
I can't hear this song without becoming emotional. It's one of the first songs my girlfriend and I danced to. Sometimes, If I'm cooking breakfast and she walks into the kitchen, I'll take her hand and I'll start singing this song and we'll dance. She likes her eggs overdone so it's okay if we get wrapped up in the moment. — Ian McGuinness, Vocalist/Guitarist in Side Saddle
---
Kyle Florence is a proud Wisconsinite, a dinosaur enthusiast, and a lover of all things weird and whacky.
Latest posts by Kyle Florence (see all)