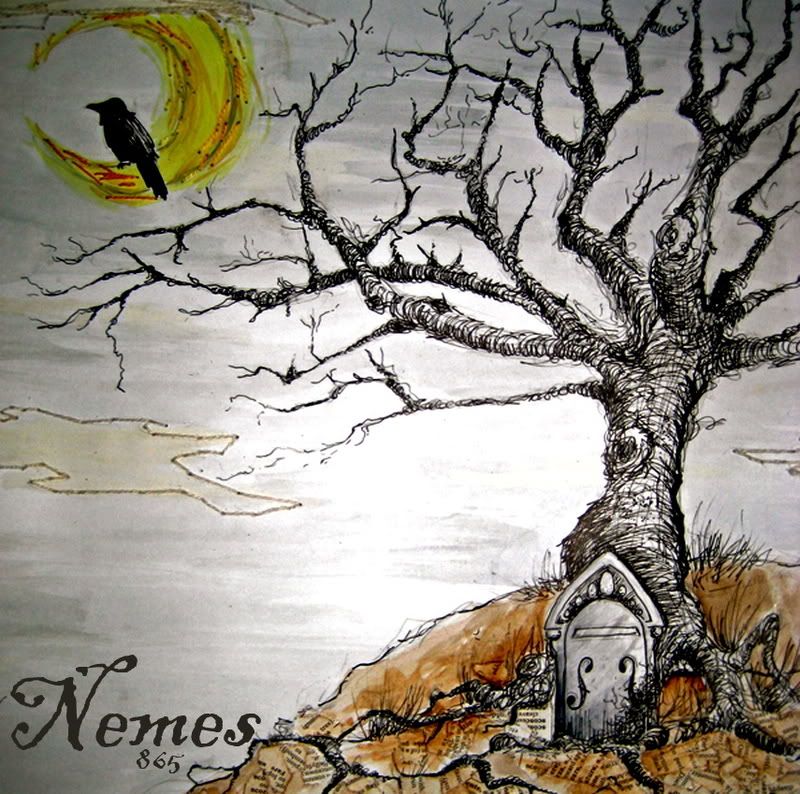 Band: Nemes
Album: 865
Genre: Pop Rock/Acoustic
Label: Unsigned
Tracks:
1. Nordic
2. Stray Cat
3. Two Weeks
4. Hedwops
If you haven't noticed, bands from Massachusetts make the UTG staff's knees weak. There must be something in the water in the Bay State because we've come across even more musical gold. Nemes, a band continuously on the rise, has found a balance between a near folk acoustic sound and almost easy core rock sound that is both truly unique and engaging. Their EP, 865, is like a roller coaster of music on the rails of the lives of the youth of America. It's got power, drive, emotion, cunning, and most of all, originality. We've yet to find a band quite like Nemes and we'll bet you haven't either.
A swirl of strings and pulsing drums leads us into, "Nordic," the first of four songs on our adventure in underground sound. Dave Anthony's voice cracks the the atmospheric aura with a soaring call to arms of sorts for the bands. It's then joined and harmonized by Josh Knowles with seamless perfection. After one round of this chant, the wall of sound comes in with chugging guitars and bass that leads into the repetition, but this time we have gang vocals to meet the harmony and some screaming. For an unsigned act, this is exactly how a band needs to present themselves. From these first three minutes, we've gone from a folk like swirl of strings, to a pulsing pop punk anthem in very little time, but it all happens so smoothly it feels meant to be. This fades into, "Stray Cat," which is bit more pop punk laced from the get go with some light violin leading. Think Yellowcard with a strong does of testosterone. the harmony is back in the verses, but it feels a bit off for about the first half of the song. There are hand claps and gang vocals once again, but they're done quite well and just makes it feel like you're right there with the band, watching and signing along. Lyrically, the song almost feels like a modern day twist on the classic John Hughes film Say Anything if it collided with Roxanne. The feel of young love is rampant and I'm sure it swoons the girls like no one's business.
"Two Weeks," the third track, comes roaring through with a violin lead that just reaches into your flesh and attaches itself to your bloodstream. Seriously, you're instantly pulled into sync with the band and can't help, but bob you head along with the song. The bass is thick and the two step is necessary. However,t he real gold comes near the end of the song. The entire track, though always driving sound wise, is constantly building and building up to the songs climax. With only 20 seconds left, everything drops out, but bass drum, claps,violin, and vocals standing alone to chant lines that will surely suck any audience in. I've noticed that the real trick, other than pushing yourself, is to have one song that label execs hear and know they can sell. This is that track. Seriously, if you only give bands one song to win you over, look no further than, "Two Weeks," because it is example A. Now, after such an epically good track, one is destined to worry that the final track can't hold up, but, "Hedwops," does just fine. This has a bit more of the heavier pop punk feel to it. Think newer New Found Glory, but with the youthful push of early Get Up Kids. It starts subtly, but then grows into a very diverse and sprawling track. Complete with gang vocals and a guitar solo to boot. Nemes knows this is their last chance to impress you and they truly go all out.
If early Yellowcard and Four Year Strong met up and had a love child, Nemes would be that infant. Full of power, emotion, and musical skill, these six guys are making something unique and fresh that you all need to lend an ear to. In a world of bands releasing music to make a quick buck and get girls, Nemes are busy creating refreshing music that hits great again and again. This four song EP is hot off the presses and if you miss out now, you'll only be kicking yourselves later. Put down the random label sampler you got at whatever music festival you hit up this summer and pick up 865 as soon as you can.
*Written By: James Shotwell*
GRADE: 8.5/10
James Shotwell is the founder of Under The Gun Review. He loves writing about music and movies almost as much as he loves his two fat cats. He's also the co-founder of Antique Records and the Marketing Coordinator for Haulix. You should probably follow him on Twitter.
Latest posts by James Shotwell (see all)