Artist: Lamb of God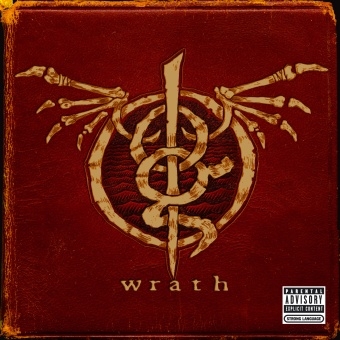 Album: Wrath
Genre: Metal
Label: Epic
Tracks:
1. Passing [Instrumental] 
2. In Your Words
3. Set to Fail
4. Contractor
5. Fake Messiah
6. Grace
7. Broken Sands
8. Dead Seets
9. Everything to Nothing
10. Choke Sermon
11. Reclamation
Lamb of God formerly known as Burn the Priest finally released the long awaited album Wrath, which is actually the bands 6th release as to date. For those of whom never have witnessed the powerful, extraordinary, epic sound that is Lamb of God, then you need to go out and get at least of of their albums. As for a little basic background info on Lamb of God; They are from Richmond, Virgina, they are considered to be heavy metal to some, metalcore to others. It is largely debated so I'll leave it to you to call.
Every single release that the band has currently put out has been absolutely outstanding and has left me wanting more. I was absolutely pumped (along with every other Lamb of God fan) for this album to come out. What do the fans think? Well the album did hit #2 on the Billboard 200. What do I think of the album? Personally I feel that the album was a complete success, it contains quality tracks, catchy riffs, a brand new sound (but one that defines Lamb of God) so personally, I approve.
One of the better tracks on this album would have to be "Contractor". It's a lot fast pace and more upbeat at time then everything else I have heard from these guys. It's a dirrect hit, its fast, its heavy, its catchy it is a good track for sure. Some of the best vocal work I have heard from Randy Blythe in an extremely long time. This song also has a lot of variety on it mixing new and old sounds.
Another song that I really enjoyed was the final track on the album "Reclamation". This song was just something I really did not expect from these guys, it starts off very mellow and laid back with only guitar riffs and then drums burst in with vocals. The song is an epic length of over 7 minutes and it acomplishes a lot in that time. The song goes back and forth between mellow and heavy over and over. There are some extremely catchy riffs in this song that are a much newer song that I didn't expect from Lamb of God either.
Although the album has a new sound, let me promise you, The old Lamb of God talent remains. This album is really good, not their very best but still very good. I would say every track on the album is atleast good. There aren't any tracks on here that made me consider turning off the album. If you are a fan of these guys, get out there and buy this album!
8/10
Written by: Danny Weiss
James Shotwell is the founder of Under The Gun Review. He loves writing about music and movies almost as much as he loves his two fat cats. He's also the co-founder of Antique Records and the Marketing Coordinator for Haulix. You should probably follow him on Twitter.
Latest posts by James Shotwell (see all)